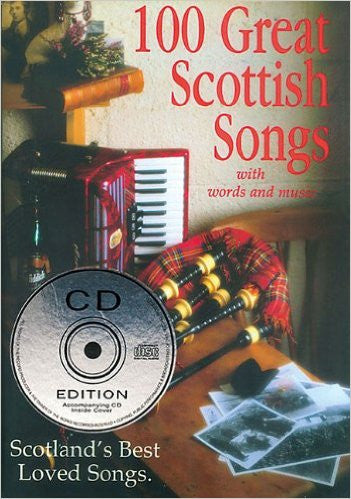 100 Great Scottish Songs - With Words & Music CD edition
A superb collection of Scottish songs and ballads with lyrics, music and guitar chords.
Compiled by Waltons Publishing (soft cover). CD produced by Pat Conway.
This CD Edition includes a verse and chorus of each song on CD.
100 Great Scottish Songs includes:
A Peer Rovin Lassie, Sound The Pibroch, The Banks O' Red Roses, The College Boy, The Gallowa' Hills, Loch Lomond, The Bleacher Lass O' Kelvinhaugh, The Dowie Dens Of Yarrow, The Lea-Rig, Van Diemen's Land, Wae's Me For Prince Charlie , Boat Me O'er To Charlie, Cam' Ye By Athol, Coulter's Candy, Mary Of Argyle, Mormond Braes, The Bonnie Lass Of Fyvie, The Road To Dundee, Tramps An' Hawkers, Twa Recruitin' Sairgeants, Wark O' the Weavers, Charlie Is My Darling, Comin' Thro The Rye, Jock O' Hazeldean, Mally Leigh, My Name Is Jock Stewart, The Back O' Bennachie, The Bonnie Ship The Diamond, Johnny Lad, Maids When You're Young, Tae The Beggin', Ye Jacobites By Name, Birniebouzle, Broom O' The Cowdenknowes, He Widna Wint His Gruel, Macpherson's Rant, The Balena, The Band O' Shearers, The Rowan Tree, Air Falalalo, Ca' the Yowes, Cam' Ye O'er Frae France, The Great Silkie, The Skye Boat Song, A Man's A Man For A' That, Bonnie Dundee, Bonnie Glen Shee, Hishie Ba', Kelvin Grove, Killiecrankie, The Merchant's Son, The Twa Corbies, Barnyards O' Delgaty, Bonnie George Campbell, Loch Tay Boat Song, My Harry Was A Gallant Gay, The Flowers Of The Forest, The Shearin's No For You, Will Ye Gang Love?, Dumbarton's Drums, The Four Maries, The Gypsy Laddie, The Land O' The Leal, The Lewis Bridal Song, Bonnie Wee Jeannie Mccoll, I'll Play Ye Doon Love, My Ain Folk, Scots Wha Hae, The Trooper And The Maid, Haughs O' Cromdale, Leezie Lindsay, O I Am A Miller Tae My Trade, The Lichtbob's Lassie, Auld Lang Syne, Bogie's Bonnie Belle, Buy Broom Beesoms, Mary Mack, What's A' The Steet Kimmer, Whistle O'er The Lave O't, Will Ye No Come Back Again?, Dainty Davie, Lassie Wi' The Yellow Coatie, Twa Bonnie Maidens, Ye Banks And Braes, Ae Fond Kiss, Caller Herrin', Ho Ro! My Nut Brown Maiden, Mickey's Warning, Mingulay Boat Song, O My Love Is Like A Red, Red Rose , Rattlin' Roarin' Willie, The Forester, Will Ye Go Lassie Go?, John Anderson, My Jo, Johnnie Cope, Laird O' The Dainty Dounby, Lochnagar, Plooman Laddies, The Night Visiting Song, The Rovin' Ploughboy.
---
Share this Product
---
More from this collection