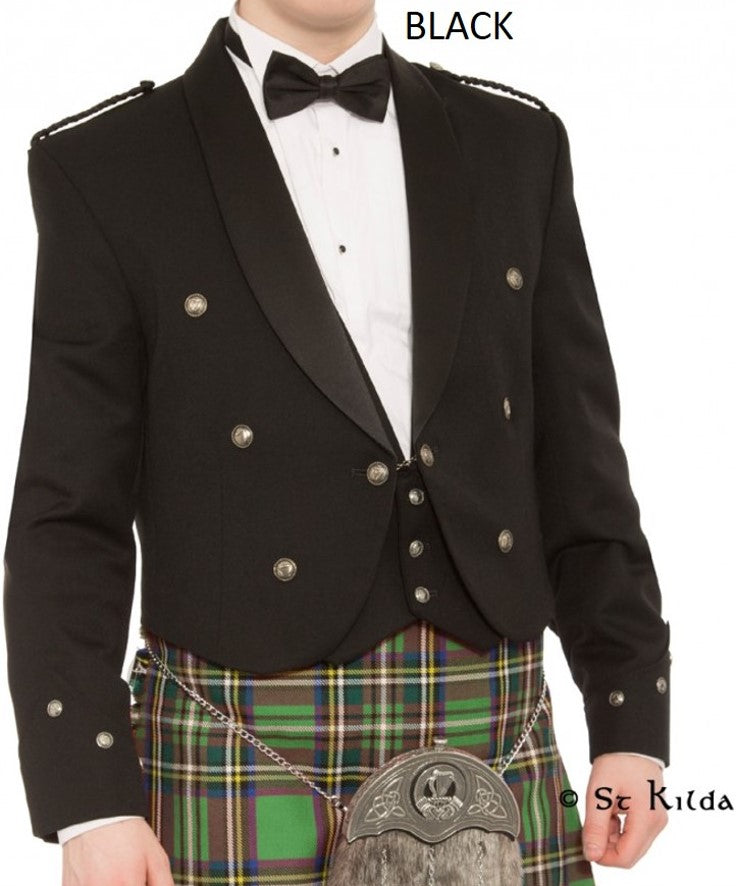 Brian Boru Barathea Jacket & 3-Button Vest
Occasion: Formal/Evening
The Brian Boru kilt jacket is a variant of the Prince Charlie, designed to give a distinctive look to Irish men wishing to wear a kilt. Our Brian Boru jackets and waistcoats are tailored in Scotland using the finest quality 15oz barathea wool cloth. This stylish, formal evening jacket can be worn to all formal functions where a black tie is requested such as weddings, dances and dinner receptions. Brian Boru was High King of Ireland, who came close to unifying all of the island under one figurehead, but was killed in his moment of victory at the Battle of Clontarf in 1014. 
The Brian Boru jacket is a higher cut than an Argyll jacket and is completed with a 3-button evening waistcoat. One should never be uncomfortable in this jacket but it should look fitted. 
Other colours available upon request.
Features:
100% 15oz barathea wool
Fine lining
Silk braided epaulettes
Polished Irish harp buttons
Supplied with chain link to close jacket.
Sizing: Our jackets are made in Scotland and are sized differently than in North America. We recommend that you come in to get measured, if possible, and we will order it for you. Jackets are available in S-Short, R-Regular, L-Long (tall) from 36 - 56.
Disclaimer: If we do not size you, we do not take responsibility for the fit.
We try to ensure that every product is accurately represented online, however, colours may appear differently on different computer screens.
How to measure (do not measure yourself; have another person measure you):
---
Share this Product
---
More from this collection