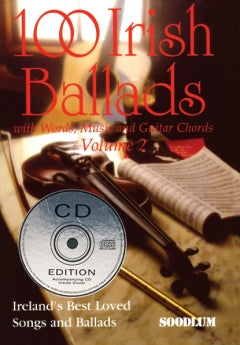 100 Irish Ballads with Words, Music, Guitar Chords and CD Vol. 2
Another 100 Great Irish songs and ballads with lyrics, music and guitar chords of traditional and contemporary Irish folk songs.
Compiled by Waltons Publishing (soft cover). CD produced by Pat Conway.
This CD Edition includes a verse and chorus of each song on CD.
100 Irish Ballads Volume 2 includes:
Arthur McBride,  As I Roved Out, The Fields of Athenry,  Ragaln Road,  Song For Ireland, Follow Me Up To Carlow,  Nancy Spain, From Clare to Here, Only Our Rivers Run Free,  Four Green Fields, The Ould Triangle, The Crack Was Ninety in the Isle of Man, Dublin Jack of All Trades, Banks of My Own Lovely Lee, The Bard of Armagh, Believe Me if All Those Endearing Young Charms, Big Strong Man, Bold Thady Quill, Eileen O'Grady, Henry My Son,  The Man From Mullingar,  My Lovely Rose of Clare,  The Patriot Game,  On the One Road, Tipping it Up to Nancy, When You were Sweet Sixteen, Amhran na bhFiann, The Boys of the Old Brigade, Rare Auld Times, Paddy Works on the Railway, Paddy Lay Back, O'Sullivan's John, The Rocky Road to Dublin and more.
---
Share this Product
---
More from this collection