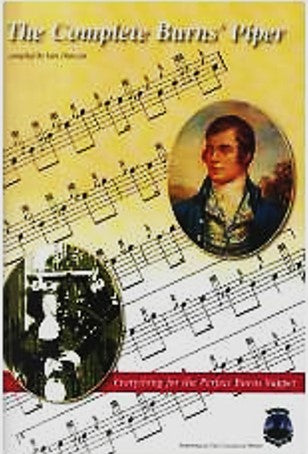 The Complete Burns Piper
'The Complete Burns' piper' by Iain Duncan. The perfect companion to a perfect Burns Night.
Tunes include:
4/4 Marches A Man's a Man, Auld Lang Syne, The Lea Rig, MacPhersons Rant,  Killiecrankie, Rantin' Rovin' Robin, Ye Jacobites By Name, The Star o' Rabbie Burns.       6/8 Marches The De'ils Away Wi' the Exciseman, Up in the Morning Early, The Quakers Wife, Kenmuirs On and Awa, Willie, The Mucking o' Geordie's byre,  Lord Breadalbane (or The carles wi' the breeks), The Campbells are Coming, O'er the water to Charlie, Bonnie Dundee, My Tocher's The Jewel, Bannocks o' Barley Meal, Green Grow the Rashes O,    2/4 Marches Corn Rigs, I'll Gang Nae Mair Tae Yon Toon,  Highland Laddie, Andrew and His Cutty Gun, Duncan Gray, My Love She's But a Lassie Yet, Willie Brewed a Peck o' Maut, I'm Ower Young to Marry Yet, Miss Forbes Farewell to Banff, O'er the Hills (and far away), John Highlandman (Abercairney Highlanders)  Slow Airs Ae Fond Kiss, My Lodgings on the Cold Ground, HighlandMary/ Kaitrine Ogie, Scots Wha Hae. Jigs Rattlin', Roarin' Wullie, I Ha'e a Wife O' Ma Ain, My Wife's a Wanton Wee Thing, Brose and Butter. Hornpipes Green grow the rashes O, Johnnie Cope. Starthspeys Roslin Castle, The Birks o' Aberfeldie, Tulloch Gorum, The Cameronian Rant, The Rothiemurchus Rant, Whistle O'er the Lave O't, Highland Harry Back Again, Coming Through the Rye. Reels The Braes o' Balquhidder, The Reel o' Stumpie, The Eight Men o' Moidart, Jackie Latin, The Wind That Shakes the Barley.
---
Share this Product
---
More from this collection