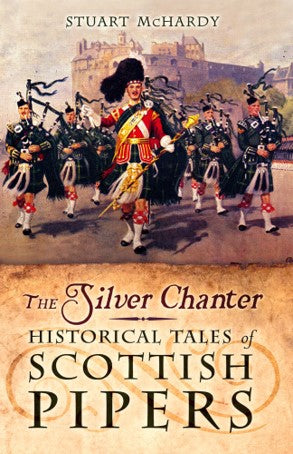 The Silver Chanter - Historical Tales of Scottish Pipers
All over the world people associate the bagpipes with Scotland. In this informative and entertaining book Stuart McHardy introduces Scotland's national instrument - its history, development and repertoire - and examines the part that the piper himself has played in Highland and Lowland society over the centuries.
The main bulk of the book is a series of thematically grouped tales from all periods and parts of the country in which we see aspects of traditional lore in stories of warriors, musicians, ghostly battles, the hand of friendship, exemplary heroism and the cost of supernatural help. There are tales of the MacCrimmons, the most famous island pipers of all, as well as Habbie Simpson, who was possibly the most famous of all the Lowland pipers. Whether dealing with great bravery or contemptible jealousy, the supernatural or the mundane, these stories reflect the central role that the bagpipes have played, and continue to play, in Scottish traditional culture.
Author: Stuart McHardy (soft cover)

---
Share this Product
---
More from this collection